How NPS International fosters creative lives in students
At NPS International, our students enjoy a holistic education that effectively prepares them for the future. Not only does it help them score excellent CBSE results, but it also fosters creative lives in students, empowering them to embrace originality, self expression, and leave their unique mark on the world. Learn how our students tap into our extensive resources and opportunities to hone their creativity.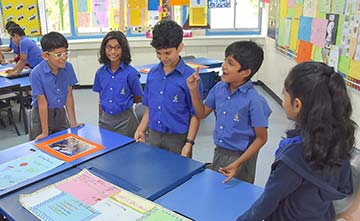 Students engaging in artistic activities in school
Our teachers incorporate fun and creativity into their lessons.
NPS International's experienced faculty are firm believers in holistic education, in contrast to rote learning and memorisation. Possessing extensive experience and qualifications, our teachers are well equipped to teach students from early years into primary and secondary school. With an average student-teacher ratio of 13:1 for all our courses, as well as regularly incorporating creative and enriching activities, our teachers deliver memorable and effective lessons to facilitate your child's learning.
This is supplemented by outbound trips and excursions, which allow students to tie in what they learn in the classroom to the real world. These excursions range from a day trip to various locations in Singapore, to adventure activities and overseas trips for community service. Through these activities, students foster stronger bonds between their peers and cultivate independence and responsibility, which helps build the discipline they need to study and achieve stellar CBSE results.
We immerse our students in a wide range of arts.
To reflect our commitment to fostering creative lives, NPS International immerses our students in the arts from an early age, such as dance, drama, music, as well as visual arts and design. Dance & Music (Grade 1 to 5) form part of the curriculum for students across Grade 1 to 5, and students learn a variety of dance forms to build their critical thinking, confidence, and kinesthetic skills.
Drama is also a key part of NPS International's programme, and is featured from Grade 1 to 8, and as an IGCSE subject for Grade 9 and 10. Through public speaking, improvisation, acting, and character analyses, students gain confidence, creativity, and communication skills to interact with people from all walks of life. We further support our students by providing them with training and opportunities to participate in competitions, granting them both exposure and experience as well as maximising their potential.
We offer numerous extracurricular activities.
NPS International supports creativity and holistic learning through a diverse range of extracurricular activities, designed to nurture students' talents and expose them to varied interests. They range from interest clubs that allow students to connect with others and explore in a structured manner, to our Sports Academy programme which cultivates strong sports fundamentals in students.
Each of our programmes are 7 weeks long and taught by resident specialist coaches, with intensive training in basketball, badminton, and cricket. This hones values such as sportsmanship, teamwork, as well as tenacity and resilience, which go a long way to helping students thrive in their studies and careers.
We provide ample opportunities for student leadership.
NPS International provides students with numerous opportunities for student leadership, be it taking charge of group projects and presentations, or being on the executive committee of an extracurricular activity group. Through these, students will have the opportunity to foster teamwork skills, practice conflict resolution, as well as utilise creative methods to achieve desired outcomes.
NPS International is also a firm believer in community service, with primary and middle school students having a teacher-guided programme while senior school students are required to identify projects based on their own interest and supervised by staff. This paves the way for servant leadership, which instills a sense of morality along with skills such as kindness, empathy, patience, as well as responsibility and accountability.
Get in touch with us to learn more about NPS International's learning pedagogy, and how we help our students attain excellent CBSE international results.